2021 proved to be a challenging year for the whole world. We want to take a moment to acknowledge everyone suffering through difficult times and send them our best wishes. Our thoughts and prayers are with you.
Goodbye 2021
Despite last year's chaos, 2021 proved to be a year of tremendous growth and opportunities for Paybook and our flagship product, Paybook Syncfy. We saw massive growth in new clients and employees, met and exceeded key technical performance metrics, and started testing transformative new products.
In 2021, we: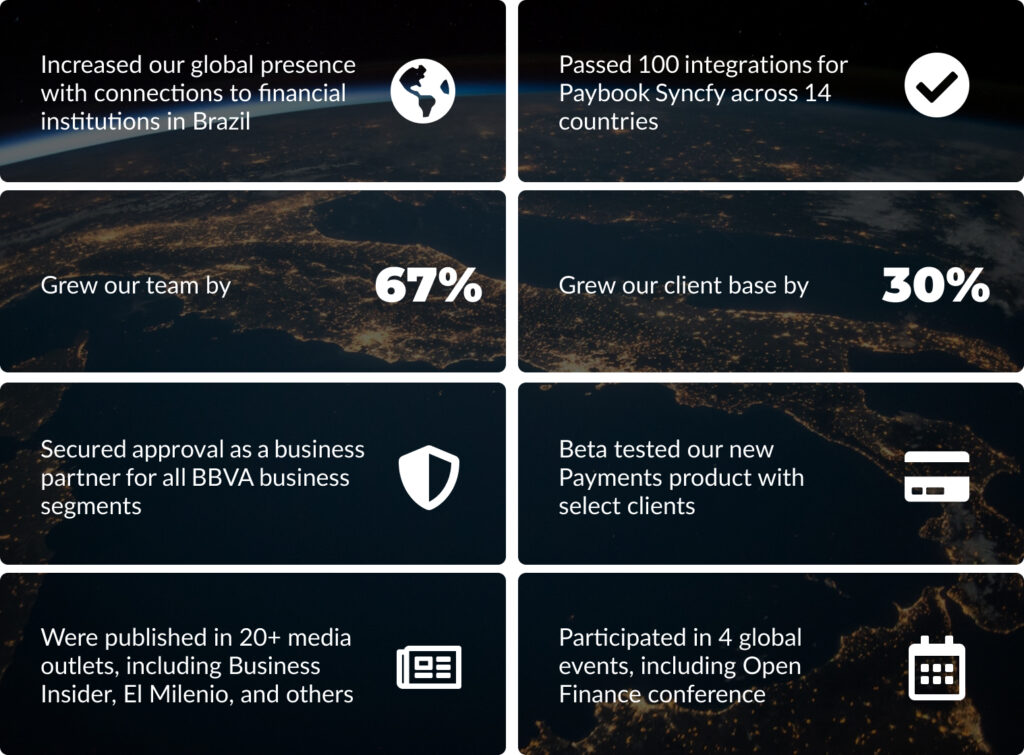 Increased our global presence with connections to financial institutions in Brazil
Passed 100 integrations for Paybook Syncfy across 14 countries
Grew our team by 67%
Grew our client base by 30%
Secured approval as a business partner for all BBVA business segments
Beta tested our new Payments product with select clients
Were published in 20+ media outlets, including Business Insider, Milenio, and others
Participated in 4 global events, including "the 2021" Open Finance conference
Growing our core business
We strive to help organizations of all sizes automate their business, save time and money, and grow productivity and profitability. Paybook Syncfy's API continues to drive business innovation for global corporations and emerging startups in the fields of banking, credit, accounting, IT, corporate finance, crypto and more. During this last year, we strengthened our unique advantages:
Technical Superiority
Paybook has built up a wealth of technical expertise over 7 years serving the LATAM community with an API product. Syncfy, our flagship product, consistently delivers best-in-class data integrity, API performance, institution connectivity, data flexibility, and service reliability. We continue to look for ways to increase our performance and deliver improvements on our API. As part of this effort, we have increased the efficiency of our API by 49% year-over-year.
Syncfy Operation Metrics

We continue to take the greatest effort to ensure the highest-level security for our partners and customers. Some of our biggest security accomplishments in 2021 include responding quickly to the Log4Shell vulnerability, removing support for deprecated TLS protocols, and entering the final stages for ISO certification. Data at rest and in transit with Syncfy is encrypted end-to-end with AES 256 bit encryption. Our physical servers are protected by 24×7 surveillance, 8 factor authentication (including biometric), network segmentation, and multi-layer firewalls. For more information on our commitment to ensure world-class security, please feel free to contact us.
Data Flexibility
Paybook Syncfy added 12 new integrations this year, including several financial institutions in Brazil, bringing the total amount of Paybook Syncfy integrations to 107. Our technical team has built a successful track record adding new integrations and adapting existing integration formats in response to requests from our customers. We strive to help each one of our customers get the most benefit from the data that Syncfy delivers.
Multi-service API
With one API, our clients get access to a wide range of essential services. We are continuing to push ourselves to help our clients minimize development time and get their services up, running, and driving revenue as fast as possible. Our Syncfy Widget is a powerful value-add technology that enables customers to go to market with innovative new products so much faster.
However, Paybook Syncfy's API is so much more robust than simply pulling data from financial institutions. Our customers unlock tremendous synergies when they use Connect and Fiscal products in combination with our Stamping and Payments products. By integrating one API for all these services, our customers save time on technical integration while receiving reliable and high-performing services.
Hello 2022 (and Happy New Year!)
The new year brings big new opportunities for Paybook. Here are some of the things we are most excited about:
Launching new products, including our payments initiation service, blockchain and tokenization products, and powerful AI data tools
Announcing several big strategic partnerships.
Continuing to grow our extensive list of integrations in LATAM, with a focus on Mexico, Brazil, Argentina, Chile, El Salvador, and Colombia.
Paybook will be growing our team in 2022. We aim to hire new colleagues for a variety of different roles across our company and product lines. We are also very excited to be launching another webinar series focused on making technical integration easier than ever. Finally, we are looking forward to joining and sponsoring more in-person events and conferences in 2022, including plans to launch our own Hackathon! Updates for all of these things and more will be posted on our LinkedIn and Twitter, so check back often!
We hope that everyone stays safe and protected in 2022. We believe that this year will bring us all renewed freedom, abundance, and good will. To all of our investors, customers, partners, and friends—thank you for your continued trust and support. Best wishes and Happy New Year!
Warmest regards,
Gerardo Treviño and the rest of the Paybook family